In the Eye of the Storm, 1998

INSTITUTION: Communications Dispatch Center/ LAPD LOCATION: Los Angeles, CA
FUNDED BY: The Los Angeles Cultural Affairs Department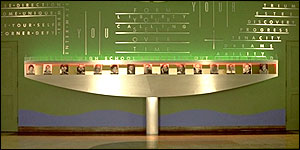 > To symbolize the meaning of the 911 System, we have developed a public art program comprised of four categories of elements: 1) Origins/ Dilemmas, 2) Vortex, 3) Connection, and 4) Resources. Inscribed into the concrete paving of the plaza, the Origins/ Dilemmas are articulated as Zip Codes throughout the region cross-referenced to various human crises: domestic abuse, heart attack, etc.

> The Vortex is comprised of a seemingly chaotic arrangement of elliptical columns with dark polished surfaces to reflect the city in a malevolent way. However, when one arrives at the center of the vortex, the chaos suddenly becomes order: all the columns emanate outward in orderly rows.

> Once at the center, the public enters a slightly reflective glass cylinder form which you can see outward through inscriptions which suggest the interface between an operator and resources (police, paramedics, etc.) via technology. This cylinder, the Connection, symbolizes that fragile moment when the person in distress calls the 911 System, to make a human connection.

> To suggest the essential anonymity of this encounter, a stainless steel revolving door panel will be centered within the cylinder, with letterforms cut though the surfaces on both sides. Thus people on either side can talk to each other without seeing each other.

> Constructed of polished extruded aluminum, safety glass, stainless steel, revolving door components, and texts inscribed onto concrete, glass, and steel.